Best Pre Workout ever
Review by Dj L. on 19 May 2018
I bought the road to 500 pack, and I love the products. I always get a good buzz off the Goku Gains and it helps me focus on crushing my workouts. I recommend investing in Pete's products b3cuas3 they're the best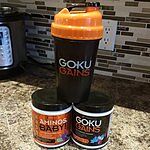 Best Pre-Workout out there
Review by Josh B. on 11 Feb 2018
This is by far the best in the business. It gets you pumped and ready for any workout.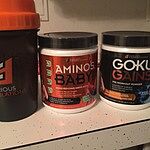 Road to 500
Review by Andrew C. on 4 Sep 2019
Bought this product as a trial after seeing the name and loving it. The Goku gains has a great taste and gives enough kick to get you into your workout. I'm a guy that needs the high stim pre workout and this gives me just enough kick to start me off. Does run out towards the back end of a session which is its only downfall. Great for a kick at the start to get you going not for if you want something that will last a whole session. Aminos baby has been tasty and takes me back to having hubba bubba grape gum as a kid.
Bcaa' and pre
Review by damien w. on 19 Jul 2019
As always furious Pete makes some good tasting potent products! Very satisfied with my purchase!
Good buy
Review by Will B. on 13 Jun 2019
Tasty - and effective.